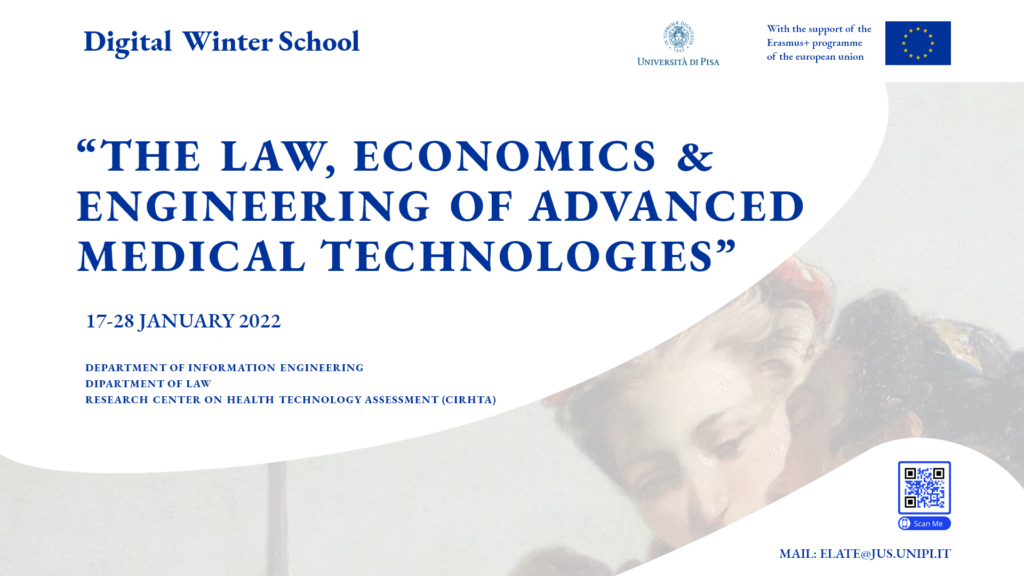 "THE LAW, ECONOMICS & ENGINEERING OF ADVANCED MEDICAL TECHNOLOGIES": 17-22 JANUARY 2022
Technological innovation in healthcare needs to conform to a complex normative matrix. In both legal and scientific education, it is essential to convey the importance of a cross-disciplinary approach and introduce a qualified public of learners to the most relevant competences in this field. This course—designed as an experiment in cross-fertilization between Law, Economics, and Biomedical Engineering—offers a substantive introduction to these
competences.
Participants will earn an understanding of the process of development, testing, marketing and diffusion of bioengineered
health care applications within a European legal framework, with reference in particular to:
(i) reduce liability risks, ensure compliance with relevant regulations, standards, and extant responsible research and
innovation (RRI) requirements;
(ii) embed fundamental rights protection within the development process of biotechnological innovation from research to
application;
(iii) adopt IPRs valorisation approach, identify the most appropriate business strategy and market placement.
Participants will join small cross-disciplinary teams. Each team will examine a case study, based on the problems faced by researchers and professionals in developing biotechnological applications.
All the activities will be held on line, on Microsoft Teams.
For the Programme Click HERE
For the Applying Click HERE